Painting & Decorating Central London
Trusted throughout London since 1974
Get advice or a quotation
Painting and Decorating Central London: We have an excellent record of high quality work delivered to commercial and residential customers since David Banks founded the business in 1974. Our services include:
Exterior decorating and maintenance
Interior decorating
Commercial and Residential decorating
Apartment block decorating and exterior maintenance
Give us a call for a free quote. Or simply fill out our Quote Request Form.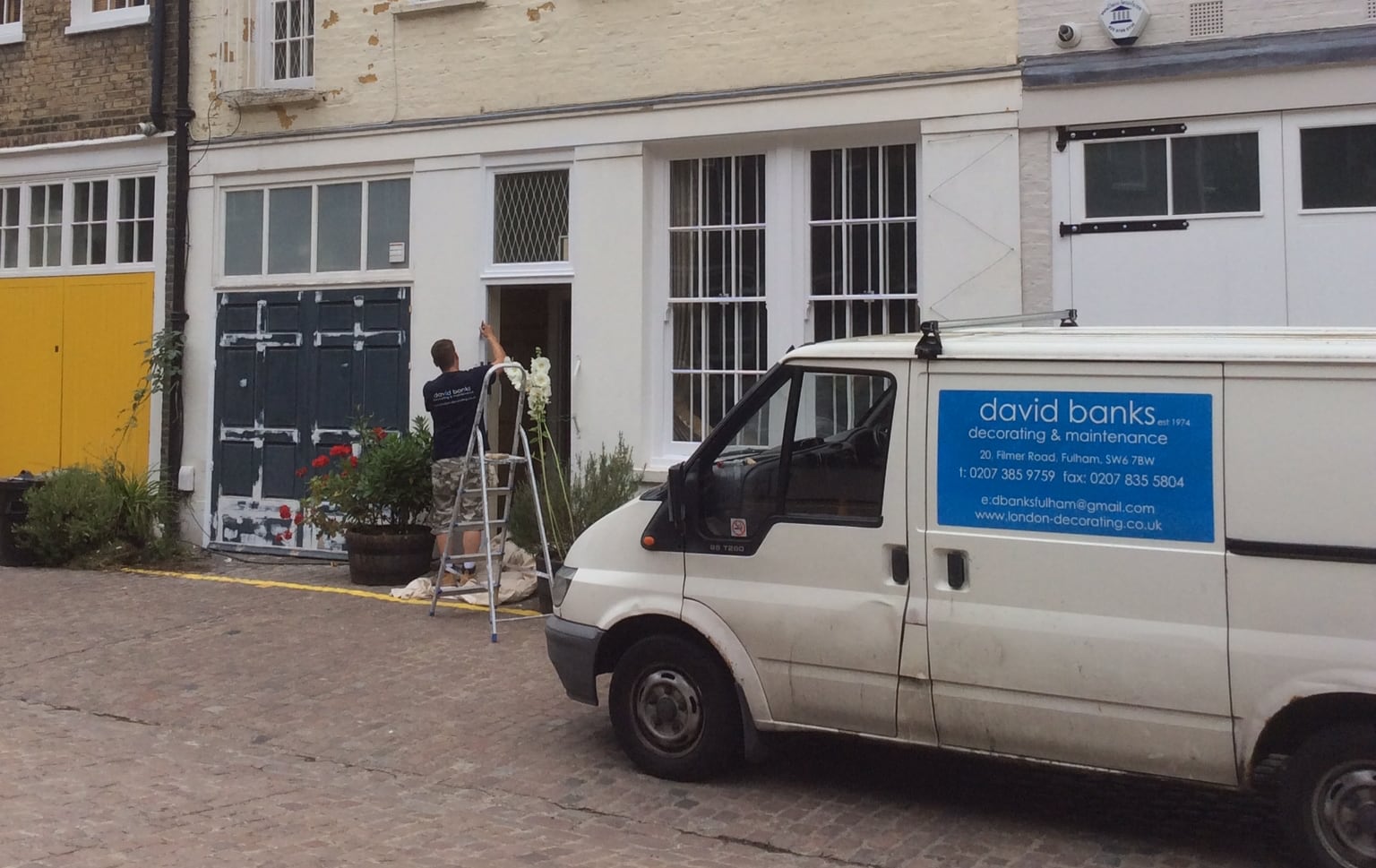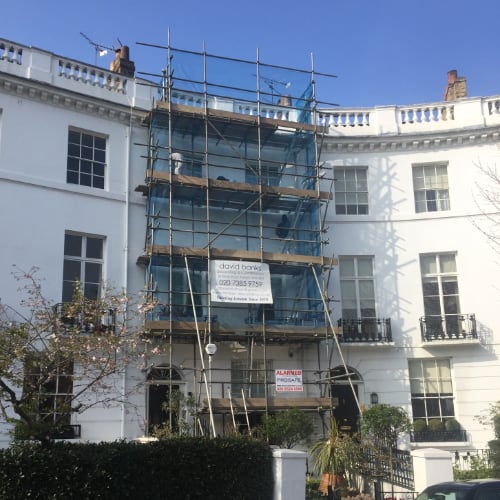 David Banks Decorators has been painting and decorating in Central London since 1974
Back in 1974 when I was twenty two years old I started my Cleaning company and my local Painting and Decorating Company. I was living in Fulham at the time in a small flat in Burnthwaite Road, just off the Fulham Road. I had a green mini Traveller van, some ladders and tools and a lot of necessity to make money to support my newly arrived baby son. I printed some leaflets, knocked on doors and worked every hour that God sent.
The business survived and grew, I rented office premises at 20 Filmer Road off Dawes Road in Fulham and eventually we started to concentrate more on the Painting and Decorating side and I sold the Cleaning business.
Things were quite a lot different in those days. Not as much traffic, no computers, no mobile telephones, and nowhere near as much regulation. All our quotes and invoices were typed on electric typewriters or handwritten and then posted or hand delivered. You could park just about anywhere in any Central London street without charge or fear of a ticket.
These days I have three stable teams of painters, all of whom have been with me for many years. They are all skilled tradesmen. I have other painters on our books also who we bring in as demand requires for larger Commercial Decorating projects. While we concentrate on painting and decorating, many of our jobs these days involve other trades. We employ scaffolders, roofing contractors, plumbing and electrical contractors, builders, carpenters, tilers, plasterers, renderers, flooring contractors and a range of other specialist contractors wherever the job may require it.
There are tens of thousands of premises in Central London of every size, shape and description and most of them need both internal and external repair and painting from time to time.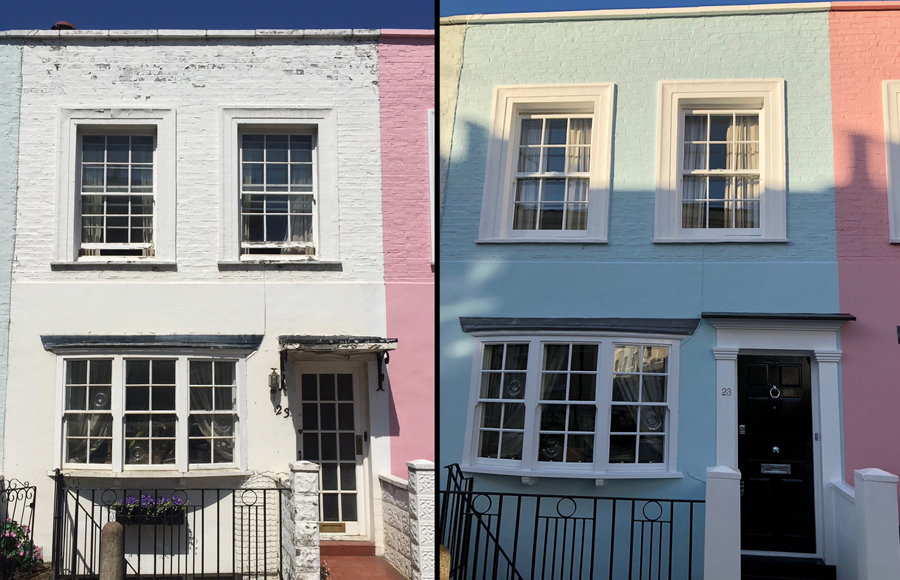 Reliable and Trustworthy
Some aspects of the business haven't changed though. It was just as important then as it is now to deliver a good product and make sure that your customers are satisfied. We prided ourselves in dealing with customers honestly and fairly and we developed our slogan - "Reliable and Trustworthy".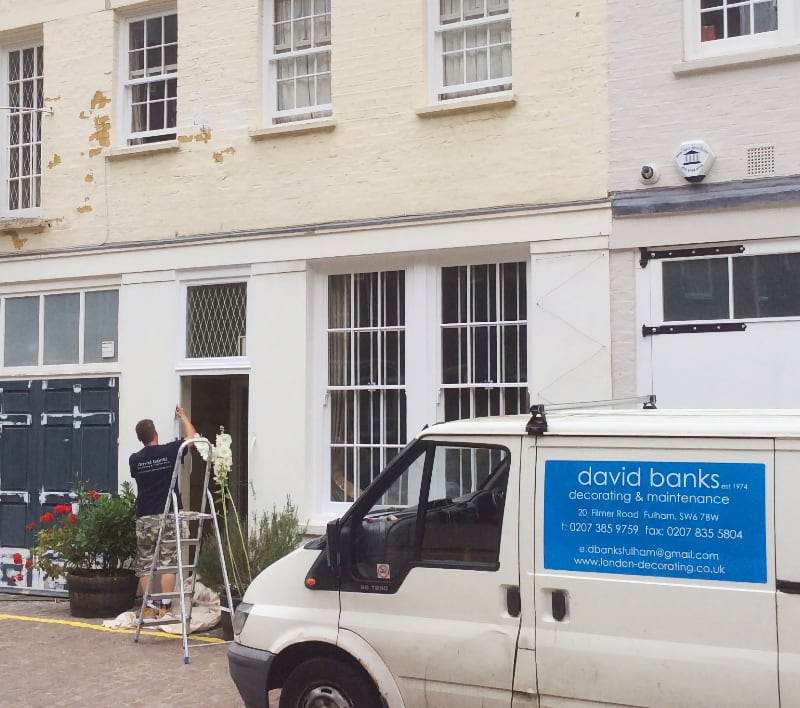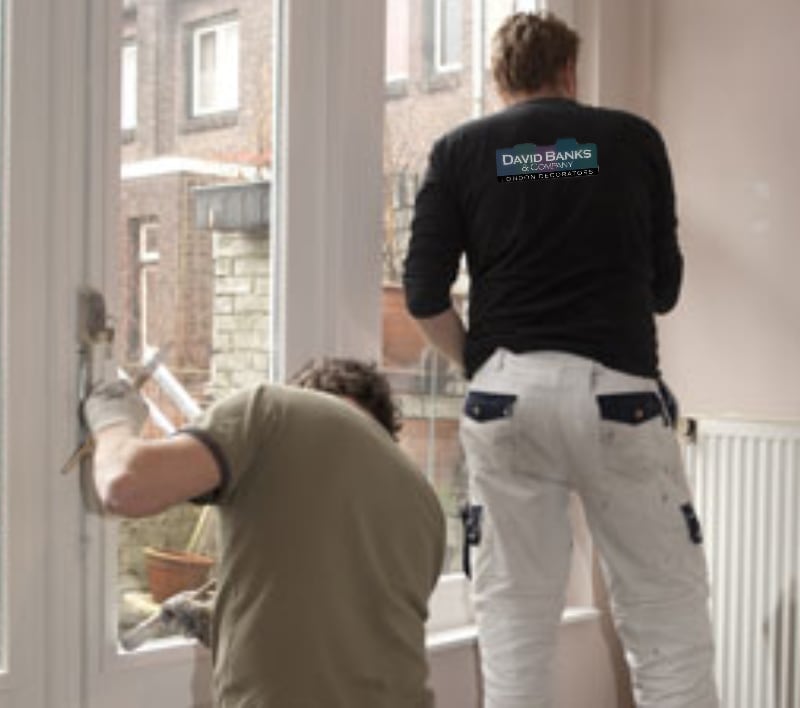 Based in Fulham
As we were based in Fulham we concentrated on the Central and South West London areas within a few miles in all directions of Hyde Park. To the North we went as far as Finchley and included Hampstead, Highgate and St. John's Wood. To the East we didn't often venture further than the City of London. To the South our boundary included Lambeth, Battersea, Wandsworth, Wimbledon, Putney, Barnes and Richmond and to the West we catered for customers out as far as Chiswick and included, Shepherd Bush and Hammersmith - for both commercial and residential decorating.
Within these outer boundaries we delivered high quality painting and decorating services to customers from all walks of life; professional and commercial clients such as architects and surveyors, property managers and estate agents – as well as individual homeowners and business owners. We have painted schools, offices, shops, dentists surgeries, law offices, health centres, apartment buildings, flats and houses both modest and grand.
Both Modern and Historical Painting and Decorating - Central London
While there are many recently erected buildings , both residential and commercial, in Central London, there are many which are much older. The variety of old and new buildings and architecture is what part of what gives Central London its unique beauty and attraction. We have buildings which were built several centuries ago sitting side by side with twentieth century and contemporary structures. Each period's buildings presents its own special challenges in terms of maintenance and repainting. David Banks Painting and Decorating has experience of repairing and painting buildings dating from the seventeenth century to the present day. In fact we were commissioned to repaint the exterior of what is thought to be the oldest remaining private house in Kensington. It dates back to 1674.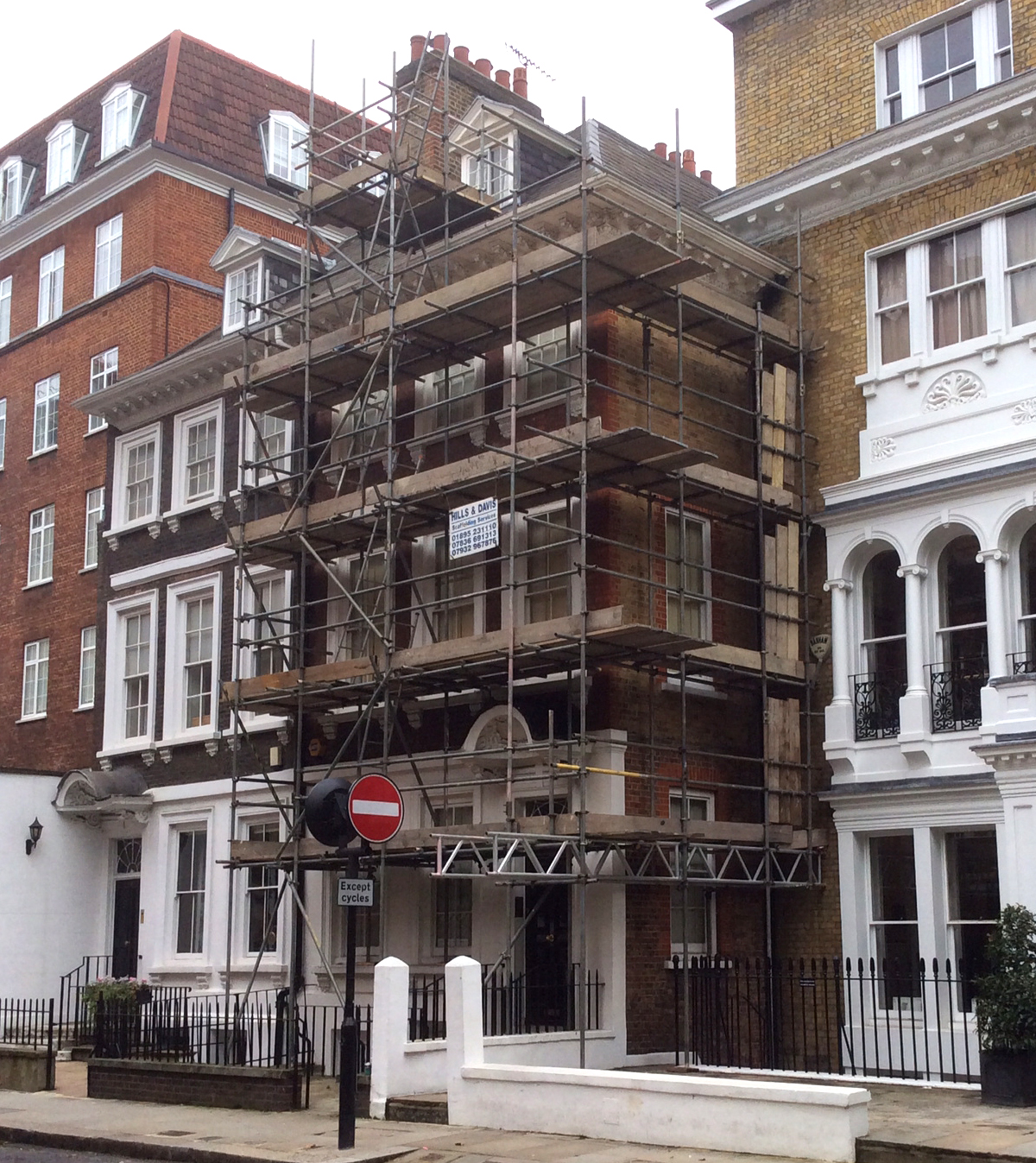 Exterior Maintenance
We cater for all sorts of exterior maintenance, repair and repainting of buildings, from the smallest mews house to large apartment and office buildings.
We work to a surveyors or architects specification or we will draw up our own in consultation with the customer directly. With external redecoration the primary objective is to preserve and protect the fabric of the building. This involves taking care of the roof, the rainwater system- gutters, hoppers, downspouts and drains- the walls, whether unpainted or painted, and the woodwork.
Walls are usually constructed of brick, stone or rendered finish over stone or blockwork. Brick walls are subject to deterioration over time resulting in failed pointing and spalled bricks. We repair these, replacing defective pointing and cutting out damaged bricks or re-surfacing them with colour matched render. Damaged stonework can be re-formed with stone based compounds before re-painting. Wood suffers from deterioration in the form of wet-rot when it has been open to rainwater over a long period. Such wood needs to be removed and the windows and doors repaired with either newly pieced in wood sections, or the damaged section rebuilt using chemical bonding wood repair compounds and fillers. Where the damage is too extensive the whole door or window or frame may need to be replaced with new.