Do you need the Services of a professional painting company in Barnes SW13?.
Painters & decorators barnes – sw13
David Banks & Co (est 1974) just across the river in Fullham, has been providing his professional decorating services to the residents of Barnes for some 39 years.
As one of Londons oldest Painting and Decorating companies we provide a high quality professional service at a competitive price.
If you have  interior or exterior painting & decorating needing done in & around Barnes we would be happy to provide you a written no obligation quotation for the work, David Banks himself still attends most quotes and can offer expert advice on all things decorating, we can also provide other trades that may be integral to the undertaking, from Scaffolding, to damp treatments, brick & masonry repair, plastering, & minor  plumbing, carpentry & electrical works.
As a fully insured company and of of the very last london painters with a shop front premises we take great pride in our work.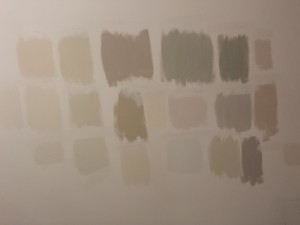 This photo was taken on a recent job of ours in Castlenau, we repainted an entire townhouse from top to bottom.
The client and designer had used colour swatching extensively in all rooms to ensure that the chosen colour worked with the natural light conditions of the room, a wise move considering the size of the undertaking and the standard the work was being done to.
As always when colour swatching is done the samples often leave heavy paint brush marking on the walls, on these jobs we take great care to sand down & smooth off sample areas to ensure a consistent flush finish.
As with all of our work we do not publish identifying photographs without the express permission of the client, but take our word for it the finished result was nothing short of breathtaking.
Other recent redecorating work in sw13;
Lonsdale Road; repairs & repainting of front & rear elevation of house, from helping choose colours to arranged scaffolding, permits & security, we then repaired masonry, replaced rotten timber and repainted both all external surfaces of the house, the client was delighted as always and we are now undertaking the interior as we speak.
Verdun Road; A couple who recently purchased a run down flat in Verdun Road, chose David banks & co to completely redecorate the interior, this included stripping off woodchip wallpaper and raking off old artex, extensive replastering, and included a small number of electrical works repainting a new kitchen that was recently installed, the job was completed within the 3 week schedule and of course came in on budget
Riverview Gardens; A property management company who we have worked with since  since 1989 had us re-visit a building that we have repainted 4 times in the last 20 years, some of our decorators have been been on this job every time it has been done and they know the way about, as usual the work was carried out to a pristine standard and will stand the elements well until we return sometime in 2018.