During the 40 years we have been painting London, the quality of our craftsmanship is not only down to our skilled and experienced professional team of decorators but also down to the tools we use, and being trained on how to use the tools correctly.
Often good quality paint can expensive so, you want to ensure that the product is going to be used and applied to its full potential to obtain an outstanding paint finish in your home. In order to do this, we need to be using the very best quality tools to apply the paint. We therefore use an award winning, handcrafted tools by Purdy.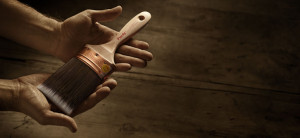 For 80 years Purdy have been making premium painting tools including paint brushes. Each brush is hand created by one of their brushmakers, who we may add, have at least 3 decades of experience. Every brush is made personally and individually – they even come with a sticker telling you who made it!
Purdy brushes are all made from raw materials and are produced step-by-step by each brushmaker. By using these brushes means that they give an outstanding finish, they are much more durable than other painting tools, they give excellent paint distribution, and a give a better overall coverage with a greater efficiency in production and smoother 'no drag' brush strokes.
For further details on Prudy click here
This means for all our clients, they know that when they book their painting and decorating with David Banks & Co, that are receiving the highest quality and professional craftsmanship every time.
Call now for your free painting and decorating estimate. 020 7385 9759