Wallpaper has certainly seen a comeback over the years – whether it be just a centre wall or all four walls, a small space that needs to make a big statement or a room that can take a vast amount of colour, the demand for big floral prints and modern graphic designs in London homes is on the up!
Our professional and expert team know that wallpaper can be pricey, especially for those wanting an exclusive hand-printed paper, so we take particular care and attention to ensure your London home, office and school has the best finish possible.
Our team is trained in giving helpful advice on choosing a look and design and we know how to prepare the walls to have a clear and professional finish. We also have our little black book of suppliers who we can recommend for the best materials in town!
With over 40 years of experience we have hung our fair share of wallpaper from small intricate spaces, to grand stately homes. If you would like to find out more about our professional decorating services, contact us today for your free quotation.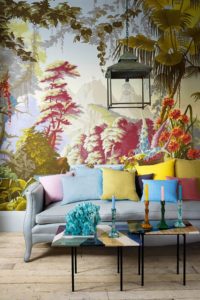 For more images and information on wallpaper visit House and Garden Magazine