Painter and Decorator Kensington
We have painted hundreds of residential houses and other properties in Kensington and Chelsea over the past thirty or so years, from the grand Georgian town houses of Kensington to the humble riverside terraces of Old Chelsea, we have plied our trade in them all.
Our philosophy of honest and fair dealing and delivering a high quality decorating service has meant that we have acquired many loyal customers who return to us for their painting and other maintenance works year after year and whose son's and daughters become our customers when they have grown and got families and properties of their own.


Out Local Area
What a wonderful place the Royal Borough is: from the wide tree lined avenues of Holland Park and the garden- enclosing squares of Notting Hill in the North to the quaint and winding Georgian-brick terraces and alleyways of the River side off Cheyne Row in Chelsea there is a diverse and pulsating variety of city dwelling life that one can never tire of. The architecture is sometimes grand and sometimes simple but always interesting and impressive and uniquely West London. Each small precinct of the Borough has its own special architectural character: The red brick Victorian mansion blocks off Sloane Street in Chelsea give that area a stately and austere individuality, while the Italianate Georgian stucco'd villas of Holland Park and south of Kensington High Street ooze affluence and grandeur.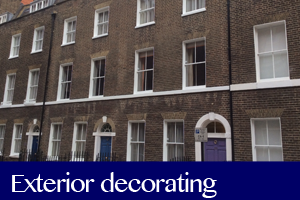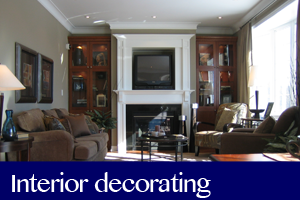 Painting and Decorating in Kensington
The Royal Borough of Kensington and Chelsea offers some of the best, if not the best, shopping in the world. The iconic and incomparable Harrods and classically British Harvey Nicholls grace the expensive boulevards of Knightsbridge while Kings Road is still as vibrant and chic as it was when it rose to fame in the Swinging Sixties. The buildings which house these shops all need to be kept looking their best and need to be maintained and preserved. This is where we come in; we provide a decorating and maintenance service which we believe is as good as any available anywhere. We often have to erect pedestrian-friendly scaffold to span the pavements where shoppers walk. And these scaffolds have to be specially boarded and sheeted to protect passers-by from any dust or debris created by our work.
And as for eateries, nowhere in the world offers a range of choice and diversity of cuisine as can be found in the streets of Kensington and Chelsea. I think there are more Michelin star chef's per square meter in the Borough than in any other place in the United Kingdom, if not the world. And at the other end of the scale you can still get a traditional English fried breakfast or lunch at a local Taxi- Driver's café, such as Peter's in Orange Square, Chelsea, just off Ebury Street, where my men and I were patrons for many years in the 70's and 80's, and where the owners must have catered for the majority of West London's cabbies over those years and where you could get the best Pollo Valdastano you've ever tasted for just a few pounds. Hard working painters need a good lunch and this is where we would often be found.
We have hundreds of customers in the Royal, Borough, many of whom we have served for more than one generation of their families.