Kitchens are really the soul of the house and are for more than just cooking but also for congregating, so they need to be put in the context of the home's public spaces or the adjacent spaces. In a lot of older houses, the kitchen tends to be isolated and often small. Today, people want a kitchen that incorporates both a workspace and a casual space for dining or even working.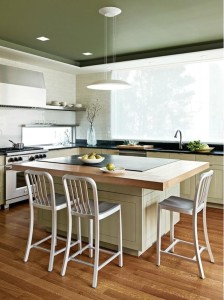 We recently found this great article by Remodelista.com (image also from  Remodelista) which gives you ideas and tips on how to create a fabulous kitchen.  Click here for further details.
For over 40 years we have painted our fair share of kitchens, from grand listed  building to chic and modern homes. If you would like to inject some sunshine into  your home this spring, the kitchen is a great place to start.  We have expert  knowledge on preparing the walls, choosing the right colours to suit your home and  your personality. Plus, we have a fantastic team of guys who treat your home as it was their own – by that we mean the house will be kept clean and tidy!
We do keep shouting about this, but we are very proud to say we recently became members of the Federation of Master Builders and TrustMark, thus it gives our customers piece of mind when booking with us, knowing they will receive a high quality painting and decorating job in London.
To book your FREE quotation contact us today on 020 7385 9759